If you're a fan of That '70s Show, you may remember the character Laurie Forman, played by Lisa Robin Kelly. However, due to personal issues, Kelly was replaced by Christina Moore in Season 6. But that's not the only change that happened in the beloved sitcom. Have you ever wondered why Hyde isn't in That '90s Show? Or if Ashton Kutcher and Danny Masterson are still friends? And most importantly, who did Jackie end up with? Keep reading to find out all the juicy details.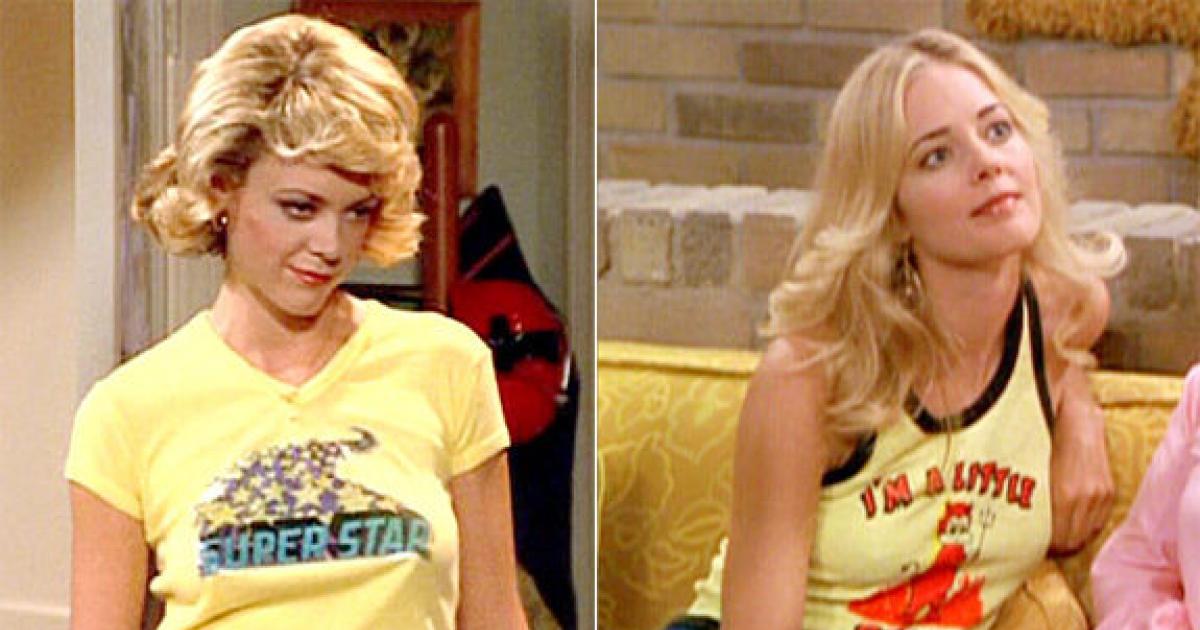 The Replacement of Lori on That 70s Show – Who Took Over Her Role?
Lisa Robin Kelly played the character of Laurie Forman, Eric Forman's older sister, in the popular TV series That '70s Show. However, due to her personal issues, she had to leave the show after season 5. As a result, Laurie's character had to be recast, and Christina Moore was chosen to replace Kelly in season 6. Moore is an American actress, comedian, fashion designer, model, and screenwriter, who was part of the main cast of the sketch comedy series MADtv. She played the role of Laurie Forman in season 6 of That '70s Show, and her portrayal of the character was well-received by the audience. While Kelly's departure from the show was unfortunate, the addition of Moore to the cast brought a new energy to the show and helped to keep the storyline engaging.
>> Must read Why did Lisa and Kelly leave Saved by the Bell?
The Mystery of Hyde's Absence from That 90's Show
The absence of Hyde, one of the most beloved characters on That 70's Show, from its sequel That 90's Show has left fans wondering why. The answer lies in the actor who played Hyde, Danny Masterson. In 2020, Masterson was charged with raping three women in separate incidents that allegedly took place between 2001 and 2003, during the original run of the show. Since then, the actor has been fired from the Netflix series The Ranch and has not appeared in any other major projects.
The allegations against Masterson have had a ripple effect on the entertainment industry, with some of his former co-stars distancing themselves from him. As a result, Masterson's absence from That 90's Show is not surprising. Fans of the original show will undoubtedly miss his character, but the decision to exclude him from the sequel was likely made to avoid controversy and negative attention.
It's worth noting that Masterson has denied the allegations against him and has pleaded not guilty to the charges. The legal proceedings are ongoing, and it remains to be seen what the outcome will be. Regardless, it seems unlikely that Masterson will be making a comeback to the entertainment industry anytime soon. Until then, fans of That 70's Show will have to appreciate Hyde's character from the original series and remember the impact he had on the show's success.
Trending now – How did Kate McKinnon say goodbye to SNL?
The Status of Ashton Kutcher and Danny Masterson's Friendship.
Ashton Kutcher and Danny Masterson's friendship is one of the most enduring relationships that emerged from the hit television show, "That '70s Show." They have been friends for more than two decades, and even the allegations against Masterson have not affected their bond. Kutcher, in an interview with Esquire, revealed that Masterson has been his mentor since the show's success in 1998. Despite the controversy surrounding Masterson, Kutcher has stood by his friend and has not allowed it to affect their long-standing friendship.
Their friendship is a testament to the bond that can develop between colleagues who work together for an extended period. It's not easy to maintain a friendship in Hollywood, where the industry is known for its fickle nature, but Kutcher and Masterson have proven to be an exception to the rule. Their friendship has grown over the years, and they have even gone on to launch their own production company, which shows how much they trust and believe in each other's abilities.
Kutcher and Masterson's friendship has become an inspiration to many fans of the show, and they have continued to support each other's careers since the show's end. Even though Masterson is not part of the upcoming "That '90s Show" revival, fans still hope that the duo will work together again in the future. With their enduring bond and shared history, it's not hard to see why fans want to see them collaborate once again. It remains to be seen whether Kutcher will make an appearance in "That '90s Show," but one thing is for sure, their friendship will remain strong.
Is Ashton Kutcher Making a Comeback in That 90s Show?
Ashton Kutcher's fans have been eagerly waiting to see their favorite star reprise his role as Kelso in the sequel series of That '70s Show, That '90s Show. However, there was a lot of speculation about whether Kutcher would be a part of the show or not. But, in a recent interview with Esquire magazine, the actor revealed that he did not have a choice in the matter.
Kutcher disclosed that his wife and former co-star, Mila Kunis, refused to let him turn down the opportunity to be a part of the show. While it is unclear what role Kutcher will play in the sequel series, fans are excited to see him back on screen with his former castmates.
It's worth noting that Kutcher's return to That '90s Show will undoubtedly be a nostalgic treat for viewers who grew up watching the original series. Moreover, with Kutcher and Kunis' undeniable chemistry, fans are hopeful that they will get to see the couple on screen together again.
In conclusion, while Kutcher's role in That '90s Show is still a mystery, fans can rest assured that he will be a part of the show thanks to his wife's insistence. It will be interesting to see how the showrunners incorporate Kutcher's character into the plot and what new adventures await the gang in the '90s.
The Untold Ending of Jackie's Romantic Relationship.
The romantic relationships in That 70s Show were always a topic of discussion among fans, and the surprise twist of Jackie ending up with Kelso left many viewers in shock. After all, at the end of the original series, Jackie was shown to be in a relationship with Fez. However, the creators of the show decided to switch things up for the finale season and brought Kelso back, who eventually rekindled his relationship with Jackie.
The chemistry between the two characters was undeniable, and their on-again-off-again relationship kept fans hooked until the very end. While Fez and Jackie's relationship was also a fan-favorite, the show's creators ultimately chose to go in a different direction. The unexpected ending left fans with mixed feelings, but it certainly added to the show's overall appeal.
It's worth noting that the original series ended over a decade ago, and fans have been left wondering if there will be any continuation of the show's storyline. There have been talks of a That 70s Show spin-off, titled That 90s Show, but it's uncertain if the original cast members, including Mila Kunis and Ashton Kutcher, will be involved. Regardless, the ending of the original series will always be a topic of debate among fans, especially regarding who Jackie ultimately ended up with.
That '70s Show underwent some major changes throughout its run, including the replacement of actress Lisa Robin Kelly with Christina Moore for the role of Laurie Forman. Additionally, the absence of Hyde in That '90s Show and the uncertain participation of Ashton Kutcher in the upcoming spin-off have left fans curious. However, one thing that remains certain is the enduring friendship between Kutcher and Danny Masterson. And, while the question of who Jackie ended up with may still be up for debate among fans, the show's legacy continues to live on in the hearts of its dedicated viewers.