Are you still wondering why Daenerys Targaryen, the Mother of Dragons, became the Mad Queen in Game of Thrones? In this post, we will delve into the reasons behind her transformation and explore some of the most intriguing aspects of her story. From her burning of innocents to her refusal to accept surrender, we will answer your burning questions. So, buckle up, because winter is coming, and we are going to explore the character arc of one of the most iconic characters in television history.
The Reasons behind Daenerys' Transformation into the Mad Queen
Daenerys Targaryen, one of the most iconic characters in Game of Thrones, was depicted as the Mad Queen in the show's penultimate episode. Fans of the show were left shocked and wondering what caused her to become so ruthless and destructive. The answer, as it turns out, lies in the loss of everything and everyone that was dear to her.
Throughout the series, Daenerys lost her husband Khal Drogo, her unborn child, her trusted friend and adviser Jorah Mormont, her dragon Rhaegal, and finally, her closest confidante and lover, Jon Snow. These losses took a toll on her mental health and made her increasingly paranoid and obsessive.
Moreover, Daenerys had always believed that she was destined to rule the Seven Kingdoms and was willing to do whatever it took to achieve her goal. She had a single-minded focus on the Iron Throne, which led her to make ruthless decisions, including burning entire cities to the ground.
In the end, Daenerys' obsession with power and her sense of entitlement, coupled with her loss of loved ones, pushed her over the edge. The tragic transformation of the once-beloved character into the Mad Queen is a testament to the show's complex and nuanced storytelling.
>> Must read Did they change the actress for Princess Rhaenyra?
The Unthinkable Act of Daenerys: Understanding Her Decision to Burn Innocent People.
Daenerys' decision to burn innocents in King's Landing was a turning point in her character arc. While she had previously shown a ruthless streak in dealing with those who posed a threat to her, such as when she crucified the masters in Meereen, there was always a sense of justice to her actions. However, the burning of King's Landing was different.
Some have argued that Daenerys' descent into madness and her subsequent decision to burn the city was a result of her grief and anger over the loss of her closest advisors and friends. Others have suggested that it was a result of her growing paranoia and desire for power.
However, her actions in the past suggest that she has always been willing to use violence to achieve her goals. For example, when she burned all the Khals who had threatened to keep her as a slave or rape her, she arguably went too far. While it could be argued that she was defending herself, burning the Khals and all those who supported them was a brutal and indiscriminate act.
Ultimately, Daenerys' decision to burn innocent people in King's Landing was a culmination of her increasingly ruthless and uncompromising nature. She saw the city and its people as obstacles to her ultimate goal of claiming the Iron Throne, and was willing to do whatever it took to achieve that goal.
Trending now – Did Sansa get pregnant?
The Fatal Flaw in Daenerys' Plan: Analyzing Her Downfall
Daenerys Targaryen's fatal mistake was turning to fear and destruction as a means to achieve her goals. Her obsession with claiming the Iron Throne and ruling the Seven Kingdoms clouded her judgment, leading to her downfall. Her decision to burn down King's Landing and kill innocent people was a defining moment that changed her character from a liberator to a tyrant.
However, it is important to consider the context in which Daenerys made this mistake. She had faced numerous setbacks and betrayals, losing many of her closest allies and advisors, including Jorah Mormont and Missandei. Furthermore, she had just witnessed the death of one of her dragons, Rhaegal, and the beheading of Missandei, which pushed her to the brink of despair and desperation.
It is also worth questioning whether Daenerys' mistake was worse than those committed by the previous rulers of Westeros. The Lannisters, for instance, were responsible for the deaths of countless innocent people, including the massacre of the Stark family at the Red Wedding. Similarly, the Targaryens themselves were not strangers to violence and brutality, with Daenerys' father, the Mad King, earning his moniker for his madness and cruelty.
In conclusion, while Daenerys' mistake was certainly grave and contributed to her downfall, it is important to view it within the broader context of the violent and tumultuous history of Westeros. The question remains: will the next ruler to sit on the Iron Throne learn from her mistakes, or will they repeat the cycle of violence and destruction?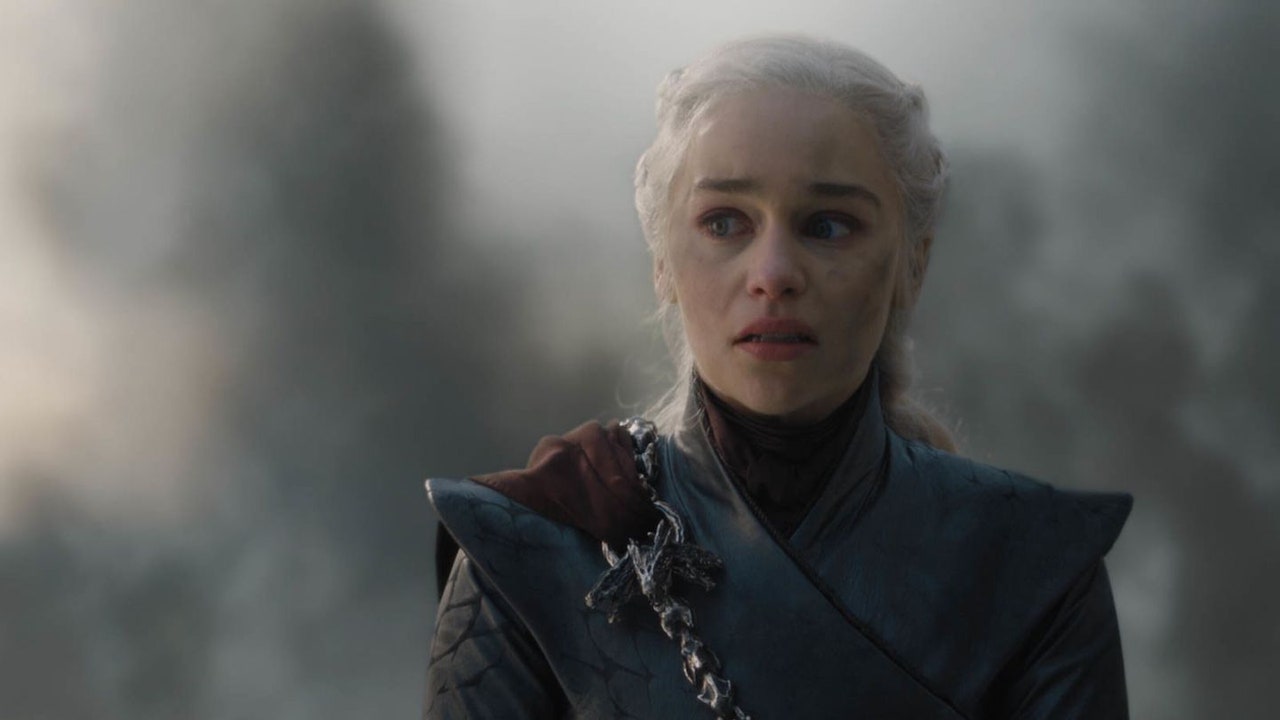 The Curious Case of Daenerys' Baby with Scales: Exploring the Possibilities.
Daenerys Targaryen's son, Rhaego, was born with dragon-like scales, leaving many fans wondering about the reason behind this peculiar occurrence. The cause of Rhaego's deformity was a result of the blood magic used by Mirri Maz Duur, a sorceress who was tasked with healing Daenerys' husband, Khal Drogo. Unfortunately, despite her efforts, Khal Drogo fell into a vegetative state, and Daenerys' baby was stillborn. As per Mirri Maz Duur, Rhaego's deformity was a result of the blood magic used to save Khal Drogo's life.
The use of blood magic is considered to be a dark and dangerous practice in the world of Game of Thrones, and it is known to have unpredictable and highly destructive consequences. Mirri Maz Duur, who was taken as a prisoner by Daenerys, had a personal vendetta against the Dothraki people, who she believed had destroyed her village and killed her people. It is possible that her use of blood magic was fueled by a desire to seek revenge against the Dothraki. Whatever her motivations might have been, the use of blood magic ultimately led to the tragic loss of Daenerys' child, who was born with dragon-like scales, a clear indication of the dark magic that was used to bring him into the world.
Unveiling the Witch's Deception on Daenerys.
After Daenerys Targaryen and Khal Drogo's marriage, they faced several challenges in their relationship. However, when Daenerys became pregnant with Drogo's child, she was overjoyed and hopeful for their future. Unfortunately, Daenerys' happiness didn't last long, as she was betrayed by the witch, Mirri Maz Duur.
When Drogo was injured in a fight, Daenerys turned to the only person she knew could help him – the witch. Unfortunately, the witch had ulterior motives and tricked Daenerys into sacrificing her unborn child to save Drogo's life. The witch's treachery left Daenerys devastated and heartbroken, as she lost her child and was left with a shell of a man in Drogo.
The witch's deception was not without reason, as she sought to punish Drogo for the atrocities he committed in her village. In doing so, she played Daenerys for a fool, taking advantage of her love for Drogo and her desperation to save him. This betrayal was one of many that Daenerys faced on her journey to the Iron Throne, and it had a profound impact on her character and motivations.
In conclusion, the witch's trickery was one of the many obstacles that Daenerys had to overcome in her quest for power. Her loss of her unborn child and the vegetative state of her beloved husband left her vulnerable and heartbroken, fueling her desire for revenge and justice. The witch's betrayal was a pivotal moment in Daenerys' story, setting her on a path that would ultimately lead to her downfall.
Exploring the Possibility of Viserys' Abusive Behavior Towards Daenerys.
Daenerys Targaryen's character arc in Game of Thrones is largely centered around her journey from being an abused and vulnerable young woman to becoming a powerful and feared ruler. Her older brother Viserys is introduced in the pilot episode as her tormentor, both physically and emotionally. He is portrayed as a manipulative and cruel character who is determined to regain the Iron Throne at any cost, even if it means sacrificing his own sister.
Throughout the first season, we see Viserys repeatedly belittle and abuse Daenerys, treating her as little more than a pawn in his quest for power. He sells her to Khal Drogo, the leader of the Dothraki, in exchange for an army to take back the Iron Throne. Daenerys is warned that she must please Drogo on their wedding night, and we see her struggle to come to terms with her new role as a wife and queen.
Viserys' abuse of Daenerys has a profound impact on her character, shaping the way she views power and the ways in which she chooses to wield it. In many ways, her decision to burn King's Landing to the ground can be seen as a reflection of the trauma and abuse she suffered at the hands of her brother.
Overall, the portrayal of Daenerys and Viserys' relationship is a powerful exploration of the ways in which abuse and trauma can shape a person's character and motivations. It also serves as a reminder of the importance of treating people with kindness and respect, particularly those in vulnerable positions.
The Reason Behind Daenerys' Refusal to Accept Surrender in Game of Thrones.
Daenerys Targaryen, the Mother of Dragons and Breaker of Chains, was always a fierce and determined character. Her ultimate goal was to claim the Iron Throne, which she believed was her birthright. When she arrived at King's Landing with her army and dragons, she was ready to take the city by force. However, when the bells of surrender rang, signaling that the city had given up, Daenerys chose to ignore them and continued to rain down fire and destruction on the city.
According to the episode's director, Daenerys was not satisfied with the relatively bloodless coup that had taken place. She felt empty in that moment, as if all of her efforts had been for nothing. This feeling of emptiness, of not achieving her ultimate goal, drove her to continue the attack on King's Landing, even though there was no longer any need for it.
Some fans have criticized this decision, arguing that it was out of character for Daenerys to attack innocent civilians. However, it's important to remember that Daenerys had always been a complex character, with both admirable and troubling qualities. She had a fierce determination to achieve her goals, but this determination could also turn into ruthlessness and a willingness to use any means necessary to achieve her ends.
In the end, Daenerys' decision to ignore the surrender and continue the attack on King's Landing was a tragic mistake. It cost her the support of her closest allies and ultimately led to her downfall. It was a reminder that even the most powerful and determined leaders can make mistakes that have devastating consequences.
Understanding the Three Betrayals of Daenerys Targaryen
In George R.R. Martin's A Song of Ice and Fire series, one of the prophecies told to Daenerys Targaryen in The House of the Undying in Qarth was about her being betrayed three times. The prophecy stated that she would be betrayed once for blood, once for gold, and once for love. Although this prophecy was not explicitly mentioned in the Game of Thrones TV show, the three betrayals were still a prominent part of Daenerys' story arc.
The first betrayal came when Daenerys was pregnant with her son, Rhaego, and her husband Khal Drogo was left in a vegetative state by a witch, Mirri Maz Duur. The witch betrayed Daenerys, using her unborn child's life to save Drogo's life, which resulted in the death of the child and Drogo's permanent catatonic state.
The second betrayal came when Daenerys was trying to buy ships to sail to Westeros. She was betrayed by Xaro Xhoan Daxos, a wealthy merchant and a supposed friend who promised to help her, but instead, he stole her dragons and left her locked in a vault to die.
The third betrayal came when Daenerys was in love with Jon Snow, her nephew, who had a stronger claim to the Iron Throne than she did. Jon betrayed her by revealing his true identity to his sisters, who then spread the word, causing Daenerys to feel threatened and ultimately leading to her decision to burn down King's Landing and kill thousands of innocent people.
These betrayals played a significant role in shaping Daenerys' character and ultimately led to her downfall. The prophecy was a warning that Daenerys ignored, and it cost her dearly.
The Fire Immunity of Daenerys: Exploring Its Mysteries.
Daenerys Targaryen, also known as the Mother of Dragons, has amazed many with her resistance to fire. Although it is often believed that Dany is immune to fire, this is not entirely true. In the books, she has only been "fireproof" once, during the hatching of her dragons. This incredible feat was attributed to a combination of several elements that protected her from getting burnt.
One of the elements that contributed to Dany's protection was Mirri Maz Duur's blood magic. The maegi had cast a spell on Dany's unborn child, causing her to lose her baby and leaving her barren. In retaliation, Dany had Mirri tied to a pyre and set it alight. However, the maegi had cast another spell before her death, which inadvertently protected Dany from the flames.
Another element that protected Dany during the hatching of her dragons was the bleeding star. This was a phenomenon that occurred in the sky at the same time that Dany's dragons were born. Many believed that the bleeding star was a sign of the return of the dragons and the rebirth of magic in the world.
It is important to note that Dany is not entirely immune to fire. In the TV series, she walked out of the burning temple of the Dosh Khaleen unscathed. However, in the books, her hair and clothes were burnt, and she was left with burns on her hands.
In conclusion, Dany is not entirely immune to fire. Her resistance to flames during the hatching of her dragons was due to a combination of factors, including Mirri Maz Duur's blood magic, the bleeding star, and the protection of her dragons.
The Actors Who Rejected the Opportunity to Play Daenerys.
Tamzin Merchant was the original actress cast for the role of Daenerys Targaryen in Game of Thrones. However, the showrunners decided to recast many roles, including Daenerys, which eventually went to Emilia Clarke. Earlier this year, Merchant spoke with Entertainment Weekly and shed light on why she left the show. Though she didn't go into much detail, she mentioned that the experience was "brief" and "not pleasant." It's unclear what exactly led to her departure, but it's interesting to imagine how the show would have been different with a different actress portraying the iconic character. Emilia Clarke's portrayal of Daenerys has become synonymous with the character, and it's hard to imagine anyone else taking on the role with the same level of power and intensity.
The transformation of Daenerys Targaryen into the Mad Queen was a result of several factors, including the loss of her loved ones, betrayal, and her own mistakes. Her decision to burn innocent people in King's Landing was a culmination of her grief and desperation. Despite her flaws, Daenerys was a complex and fascinating character, and her story will continue to captivate audiences for years to come. As for the question of why Daenerys' baby had scales or why fire didn't burn her, these are mysteries that may never be fully explained. One thing is clear, however – the role of Daenerys was a challenging one, and it's no surprise that some actors turned down the opportunity to play her. Overall, Daenerys' story serves as a cautionary tale about the dangers of power and the fragile nature of the human psyche.