In the early 2000s, Jared Fogle became a household name after losing a substantial amount of weight by eating Subway sandwiches. He was the face of the brand for over a decade, but his success story came crashing down in 2015 when he was caught in a scandal that shook the nation. In this blog post, we will explore what happened to Jared the Subway guy, how he got caught, what exactly he did, and the consequences he faced. We will also uncover whether Jared kept the weight off, how much time he received, and if he is still rich. So, let's dive in and get the facts straight.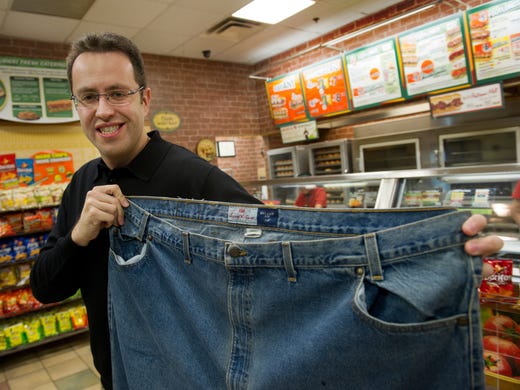 The Story of Subway's Famous Weight Loss Success: Where is He Now?
Jared Fogle, famously known as the Subway Guy, is currently serving a sentence of 15 years and eight months imprisonment in Jefferson County, Colorado, U.S. Along with that, he has a lifetime of supervised release, a fine of $175,000, and the forfeiture of $50,000, making a total of $225,000. Additionally, he has to pay restitution of $1.4 million. This harsh punishment was given to him after he pleaded guilty to charges of child pornography and traveling across state lines to have sex with minors.
Jared Fogle was not always in the news for his criminal activities. In 1998, while he was a student at Indiana University, he decided to make some lifestyle changes and lost a staggering 245 lb (111 kg) in just a year. He claimed that he achieved this feat by eating Subway sandwiches twice a day. This led to Subway hiring him as their spokesperson, and he became the face of their advertising campaign, promoting their sandwiches as a healthy option for weight loss.
However, Jared's downfall began when he was caught in a child pornography investigation in 2015. Later, it was found out that he was also involved in paying minors for sex acts. His heinous crimes not only resulted in him losing his endorsement deals with Subway but also led to a significant dent in the company's sales.
In conclusion, Jared Fogle's weight loss journey was once an inspiration for many, but his criminal activities have tarnished his image forever. He is now paying a hefty price for his actions, and his story is a reminder of the consequences of engaging in illegal and immoral activities.
>> Must read What did Courtney Cox eat while in Friends?
The Story of Jared Fogle: The Fall of a Subway Icon.
Jared Fogle, famously known as the Subway Guy, was caught in 2015 after a woman reported his associate, Russell Taylor, for offering her child pornography images. This led to an investigation, which uncovered evidence that Fogle had been in contact with Taylor and had received child pornography from him.
Fogle was charged with possession and distribution of child pornography, as well as traveling across state lines to engage in commercial sex with a minor. He pleaded guilty to these charges in 2015, and was subsequently sentenced to 15 years and 8 months in prison.
This case not only exposed Fogle's criminal activities, but also highlighted the issue of child exploitation and the importance of reporting suspicious behavior to the authorities. The investigation was a result of one person's bravery in reporting Taylor's disturbing offer, which ultimately led to the conviction of Fogle and the protection of countless other potential victims.
Trending now – Has Gordon Ramsay ever shut down a restaurant?
Jared's Subway Diet Success: Has He Maintained His Weight Loss?
Jared Fogle's incredible weight loss journey through the Subway diet is an inspiration to many. He lost a staggering 245 pounds in just one year, an achievement that many dieters could only dream of. However, the question that many people have is whether Jared has been able to maintain his weight loss or not.
The good news is that Jared has managed to keep the weight off even after all these years. He has been able to maintain his weight through a combination of healthy eating and exercise. Despite the temptations that come with fame and fortune, Jared has remained disciplined and committed to his new lifestyle.
It's amazing to see how far Jared has come from his 60-inch waistline jeans to now carrying around his 58-inch waistline jeans, a reminder of his incredible transformation. His weight loss journey has inspired many people to take control of their health and make positive changes in their lives.
Jared's dedication to maintaining his weight loss serves as a testament to the fact that with discipline and commitment, anyone can achieve their weight loss goals. It's important to note that weight loss is not just about shedding pounds quickly but also about making sustainable lifestyle changes that promote long-term health and well-being.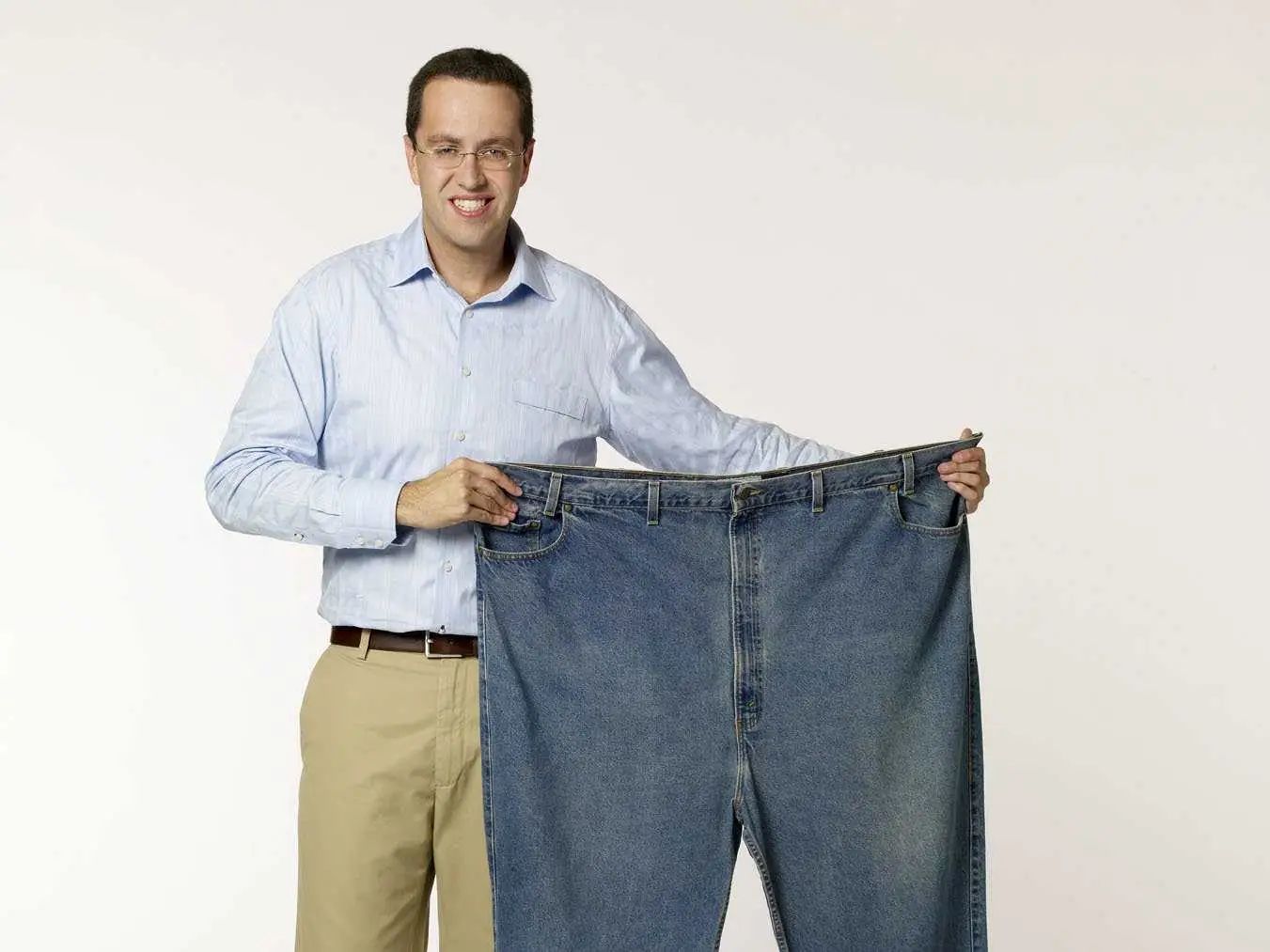 The Duration of Jared Fogle's Imprisonment: An Analysis.
Jared Fogle, the former face of Subway, was sentenced to 15 years and eight months in prison in 2015 after pleading guilty to child pornography and sex crime charges. His projected release date is March 24, 2029, as per the Federal Bureau of Prisons online records. This means that he has to serve his sentence until the mentioned date, and only then will he be released. Fogle's actions have had a devastating impact on the victims and their families, and his punishment reflects the severity of his crimes. Despite his fame and wealth, Fogle's actions were not excusable, and he has to face the consequences of his actions.
The Unveiling of Jared's Subway Scandal: What You Need to Know.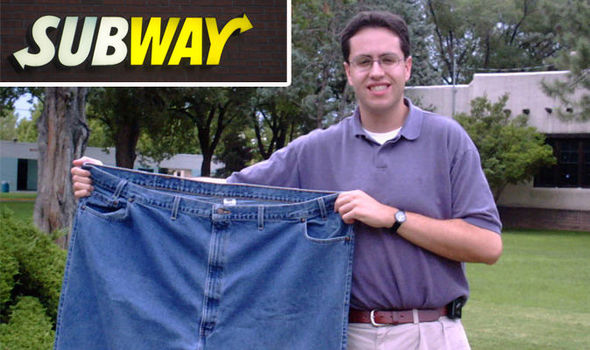 In 2015, Jared Fogle, also known as the "Subway Guy," pleaded guilty to charges of possessing child pornography and engaging in criminal sexual activity with a minor while traveling. These charges were grave and resulted in him facing up to 15 years in prison. The accusations against him were found to be true, and he was sentenced to serve time in jail for his crimes. It was a shocking revelation for many who had followed Jared's journey to losing weight and becoming the face of Subway's advertising campaigns. His actions were a complete betrayal of his public persona and the trust that people had placed in him. It is truly disheartening to learn that someone who was once celebrated for his inspiring story could do such heinous things.
Uncovering the Mystery: Which Subway Sandwich Did Jared Really Eat?
Jared Fogle, also known as the Subway Guy, became famous for his impressive weight loss journey that he attributed to eating Subway sandwiches. In March of 1998, Jared walked into a Subway restaurant that was attached to his off-campus apartment building and picked up a nutrition brochure. He then decided to create his own diet plan, which consisted of a 6-inch turkey sub for lunch and a full-length veggie sub for dinner. He accompanied both meals with a bag of baked chips and a diet soda.
It's interesting to note that Jared's diet plan was not an official Subway diet. Instead, he came up with the idea himself and found success in it. This speaks to the power of creating a personalized diet plan that works for you and your lifestyle.
Jared's diet plan was a significant factor in his weight loss journey, which saw him lose over 200 pounds. The Subway sandwich chain recognized the potential marketing opportunity and featured Jared in their commercials as the "Subway Guy." His story quickly became a national sensation, and he became an icon for weight loss success.
However, Jared's story took a dark turn when he was caught in a scandal involving child pornography and paying for sex with minors. He pleaded guilty and was sentenced to 15 years and eight months in prison. This turn of events tarnished Jared's image, and Subway cut ties with him.
Despite the scandal and imprisonment, Jared's story of weight loss through healthy eating continues to inspire people. However, it's important to remember that his actions outside of his weight loss journey were unacceptable and should not be glorified.
The Sentencing of Jared, the Subway Spokesperson – What Was the Duration of His Imprisonment?
Jared Fogle, famously known as the Subway guy, was sentenced to 15 years in prison after pleading guilty to possession or distribution of child pornography and traveling across state lines to have commercial sex with a minor. The sentence was handed down in November 2015, and Fogle has been serving his time at a prison facility in Colorado ever since. The charges against Fogle were grave and carried a heavy sentence, reflecting the seriousness of the crimes he committed. Despite his fame and fortune, Fogle was not exempt from the consequences of his actions, and justice was served in his case.
Jared Fogle's Current Financial Status: Is He Still Wealthy?
Jared Fogle's rise to fame as the Subway spokesperson was meteoric. After he lost a significant amount of weight while eating Subway sandwiches, he became an instant celebrity. He was featured in countless commercials, and he even had his own documentary series, "Jared's Journey," that chronicled his weight loss journey. However, everything came crashing down in 2015 when he was caught in a child pornography scandal.
Despite his fall from grace, many people still wonder about Jared Fogle's financial status. It's true that he was once a wealthy man, but his net worth has taken a serious hit since his arrest. As of March 2023, Jared Fogle's net worth is estimated to be roughly $4 Million.
To put that into perspective, in 2014, Jared's net worth was estimated to be around $15 Million. So, while he is still relatively wealthy, he has lost the vast majority of his fortune. This is hardly surprising given the fact that he was sentenced to more than 15 years in prison and has been unable to work as a spokesperson or in any other capacity since his arrest.
It's worth noting that before his arrest, Jared Fogle was known for his philanthropic efforts. He founded the Jared Foundation, which was dedicated to fighting childhood obesity. However, after his arrest, the foundation was dissolved, and many of his charitable donations were returned.
In conclusion, while Jared Fogle was once a wealthy man, his net worth has taken a serious hit since his arrest. He is still a millionaire, but he has lost a significant amount of his fortune. Moreover, his reputation has been irreparably damaged, and it's unlikely that he will ever be able to work in the public eye again.
Jared Subway's Impressive Weight Loss: A Closer Look at His Pound-Shedding Journey
Jared Fogle's weight loss journey is nothing short of impressive. In just 11 months, he managed to lose an astonishing 245 pounds, which was more than half of his body weight. This incredible feat caught the attention of many people around him. One of his friends, who had lived with him in his dorm, wrote an article about him that made it to the front page of the student newspaper in April 1999, as mentioned in Fogle's memoir.
Losing such a significant amount of weight is not an easy task, and Jared's success story inspired many people to try and follow in his footsteps. His transformation was remarkable, and it's no wonder that he became known as the "Subway Guy" due to his association with the fast-food chain. However, little did anyone know that this association would soon turn into a nightmare for Jared and the company.
The Impact of Jared's Controversy on Subway's Business Performance
Subway's association with Jared Fogle did indeed have a negative impact on its sales and reputation. Ted Hecht, the CEO of the advertising agency 'The Concept Farm,' said that the raid on Fogle's home played a significant role in Subway's decision to drop him as their spokesperson. The company's association with Fogle, who later pleaded guilty to charges related to child pornography and paying minors for sex, only worsened Subway's reputation. As a result, the company's sales declined significantly. The negative publicity surrounding Fogle's scandal led to a decline in Subway's market share, and it struggled to regain its position in the fast-food industry. While the company has since distanced itself from its former spokesperson, the damage had already been done. Subway's sales continue to suffer, and it remains to be seen whether it can regain the trust of its customers.
Jared Fogle, the former Subway spokesperson, lost an astonishing 245 pounds and became a well-known figure in the weight loss community. However, his success was overshadowed by his criminal activities, which led to a 15-year and eight-month jail sentence, a lifetime of supervised release, a hefty fine, and restitution. Fogle's actions also hurt Subway's sales and reputation. While his weight loss journey inspired many, his downfall serves as a reminder that fame and success do not excuse criminal behavior.