Are you curious about the kind of gun that legendary rapper Biggie Smalls carried? Or, who took the gun charge and bid for him? Did you know that he also owned a cane for a specific reason? In this blog post, we will dive into the intriguing details surrounding the murder of The Notorious B.I.G., including the weapon used in the attack and who may have taken responsibility for it. Additionally, we will explore the mystery surrounding who kept Biggie's money and why he walked with a stick. Stay tuned for some fascinating revelations about one of hip-hop's most iconic figures.
The Gun Choice of Notorious B.I.G.
The Notorious B.I.G., also known as Biggie Smalls, was shot and killed in a drive-by shooting on March 9, 1997. The murder is still unsolved to this day, and it remains one of the most notorious cases in the history of hip-hop. The attack was carried out using a firearm, and it is believed that Biggie was shot four times while sitting in the passenger seat of his SUV. The weapon used in the attack has not been definitively identified, but it is believed to have been a Glock 9mm handgun.
Biggie Smalls was known for carrying a gun for protection, and it is rumored that he owned several firearms. He was no stranger to gun violence, and had been involved in several altercations in which firearms were present. It is unclear whether Biggie's own gun was used in the attack, or whether it was a weapon belonging to one of the perpetrators.
The murder of Biggie Smalls was a shocking event that shook the hip-hop community to its core. It is a tragic reminder of the dangers that come with fame and fortune, and it serves as a cautionary tale for aspiring artists. Despite the best efforts of law enforcement, the case remains unsolved, and it is likely that it will remain a mystery forever.
>> Must read Did Biggie have a relationship with Lil Kim?
The Identity of the Person Who Covered Biggie Smalls' Gun Charge.
Damion "D-Roc" Butler was a close friend of Biggie Smalls and was known for his loyalty towards him. He even took a gun charge for Biggie Smalls and spent time in prison in the early 1990s. Butler has often hinted at the extensive home video footage he recorded of his best friend, which has piqued the interest of many fans. It is believed that this footage could provide an intimate look into the life of Biggie Smalls, including his personal life, his thoughts, and his creative process.
Taking a gun charge for someone is a significant gesture of loyalty and sacrifice. It is admirable that Butler was willing to put his own freedom at risk to protect his friend. This act of selflessness speaks volumes about the bond shared between the two men. Despite serving time in prison, Butler remained fiercely devoted to Biggie Smalls, and their friendship continued to thrive even after his release.
The footage that Butler recorded could offer a unique perspective on Biggie Smalls that has never been seen before. It could provide a glimpse into his life before fame, his struggles, and his triumphs. It is interesting to think about what kind of footage Butler captured during his time with Biggie Smalls, and how it could shed light on his legacy. The world may never know the full extent of their friendship, but it is clear that Butler's loyalty and sacrifice to protect his friend will never be forgotten.
Trending now – Was Lil Kim at biggies funeral?
The Mystery of the Gun Purchase for Biggie – Who is Responsible?
The loyalty between friends is a bond that can't be broken, and it's evident in the story of Biggie Smalls and his closest friend, Damien "D-Roc" Butler. As Biggie's career was skyrocketing, Roc took a weapons charge for him. This act of loyalty would have a significant impact on Roc's life as he ended up serving time in prison. However, despite the setback, Roc remained loyal to Biggie and continued to work for him upon his release.
The decision to take a gun charge for someone is not an easy one, but it shows the depth of the bond Roc and Biggie shared. Roc's selflessness and devotion to Biggie are a testament to their friendship, which remained strong until Biggie's tragic death.
After serving his time, Roc became Biggie's personal assistant, showing his dedication to their friendship and his willingness to do anything to help his friend. The bond between these two friends is a reminder of the power of true friendship and the lengths people will go to for those they care about.
In the end, Roc's act of loyalty and devotion to Biggie Smalls is a testament to the strong bond they shared. Despite the tragedy that ended Biggie's life, his friendship with Roc lives on as a reminder of the power of true friendship.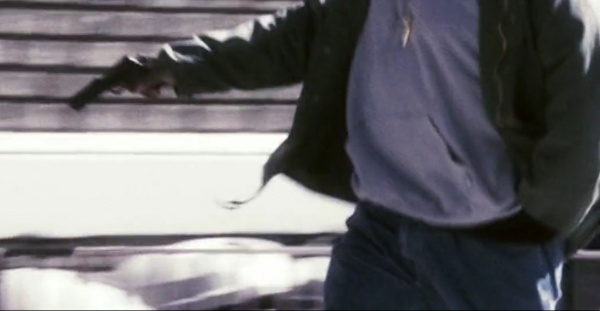 Biggie Smalls' Gun Collection: A Look into His Firearms Ownership
Biggie Smalls, also known as Christopher Wallace or The Notorious B.I.G., was known to have owned a Colt Government Model. In the movie about his life, Biggie, played by Jamal Woolard, is seen carrying this gun in the beginning and in a flashback scene. It is even shown that he would carry it with him to school.
The Colt Government Model is a semi-automatic pistol that was originally designed for the United States military. It is known for its reliability and accuracy, making it a popular choice among gun enthusiasts. It is not surprising that Biggie, known for his love of firearms and gangster lifestyle, would choose this particular gun.
It is important to note that owning a gun, especially for self-defense, was not uncommon in the neighborhoods where Biggie grew up. Guns were often seen as a necessary tool for survival in a dangerous environment. However, it is also worth mentioning that the glamorization of guns and violence in hip-hop culture at the time may have influenced Biggie's decision to own a firearm.
Regardless of the reasons behind it, Biggie's ownership of a Colt Government Model serves as a reminder of the dangerous and violent world he lived in. It is a testament to the harsh realities of life in inner-city America and the need for self-protection.
The Reason Behind Biggie's Accessory Choice: An Exploration into Why he Carried a Cane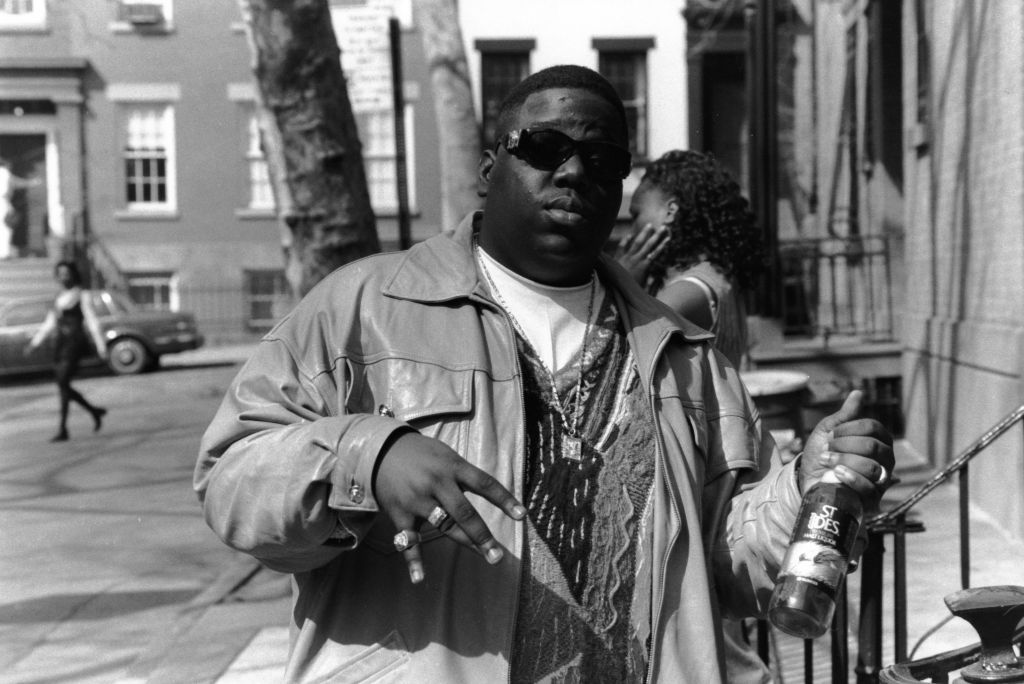 During the recording of his second album, "Life After Death… 'Til Death Do Us Part", Biggie Smalls was involved in a car accident that left him with a severely shattered left leg. This injury resulted in him being confined to a wheelchair for a while and later on, being forced to use a cane for the rest of his life. The cane was an essential tool for Biggie, as it aided him in walking without putting undue strain on his injured leg.
As an artist, Biggie's cane became a part of his signature style, and he was often seen carrying it with him. The cane provided him with not just physical support but also an element of style, which he embraced and made his own. Biggie's cane became a symbol of his resilience and determination, as he continued to perform and record music despite his injury.
It is remarkable to note that despite his injury, Biggie continued to work hard and pursue his passion for music. He did not let his disability hold him back, and instead, he used it as an inspiration to keep going. His dedication and determination to succeed were evident in his music, making him an icon in the world of hip-hop.
In conclusion, the cane was an essential part of Biggie's life after his car accident. It became a symbol of his resilience and determination, and he used it to his advantage to continue creating music that has stood the test of time. Despite the physical challenges he faced, Biggie's passion for music never wavered, and he continued to push forward, leaving behind a legacy that still influences the music industry today.
The Duration of Notorious' Incarceration: How Long Was He Behind Bars?
Biggie Smalls, also known as The Notorious B.I.G., had a troubled upbringing in Brooklyn. He dropped out of school at the young age of 16 and turned to selling crack on the streets as a means of survival. Unfortunately, this led to his first encounter with the law. In 1991, Biggie was arrested and imprisoned for nine months due to his involvement in drug-related activities.
This experience was a turning point for Biggie, as it forced him to reevaluate his life choices and focus on his passion for music. While in prison, he began writing lyrics and honing his skills as a rapper, which ultimately led to his success in the music industry.
It's worth noting that Biggie's time in prison was relatively short compared to some of his peers in the rap game. Many rappers from his era, such as Tupac Shakur, spent much longer periods of time incarcerated. Nonetheless, Biggie's brief stint in jail was a pivotal moment in his life, and set him on a path towards becoming one of the most iconic figures in hip-hop history.
Uncovering the Mystery of Biggie's Missing Fortune
After the death of the Notorious B.I.G., his mother, Voletta Wallace, was appointed as the executrix of his estate. According to Celebrity Net Worth, at the time of his death in 1997, Biggie's estate was worth $10 million. However, with the careful management and control of Ms. Wallace, the estate's value has increased to a staggering $160 million in 2021.
It's worth noting that Ms. Wallace has been extremely protective of her son's legacy and has taken legal action against those who have attempted to profit from it without permission. In 2005, she filed a lawsuit against a company that had used Biggie's image and lyrics without authorization. The case was settled out of court, but it shows the lengths that Ms. Wallace is willing to go to protect her son's estate.
The fact that Biggie's estate has grown so much under Ms. Wallace's management is a testament to her savvy business skills and her dedication to keeping her son's legacy alive. It's also a reminder of just how influential and beloved Biggie Smalls was and continues to be, more than two decades after his untimely death.
The Reason Behind Biggie's Use of a Cane.
Biggie Smalls or The Notorious B.I.G. was one of the most influential rappers of all time. His unique style and powerful lyrics made him an icon in the world of hip-hop. However, many people wonder why he walked with a stick. The answer lies in an unfortunate car accident that occurred during the recording sessions of his second album, "Life After Death… 'Til Death Do Us Part".
In the accident, Biggie suffered a severe injury that shattered his left leg, and he was temporarily confined to a wheelchair. The injury was so severe that it forced him to use a cane for the rest of his life. The cane became a part of his signature look, and he was often seen walking with it in public.
Despite this injury, Biggie continued to produce hit after hit and became one of the most successful rappers of his time. His music inspired millions of people around the world, and his legacy continues to live on today. It's a testament to his strength and determination that he was able to overcome such a traumatic experience and continue to make music that touched the hearts of so many.
In conclusion, Biggie's use of a cane was not a fashion statement but rather a result of a life-changing accident. It's a reminder that even in the face of adversity, one can rise above and achieve greatness.
The Ownership of Tupac's Estate: A Closer Look.
Tupac Shakur, the legendary rapper, actor, and poet, left behind a huge fortune when he was tragically shot dead in 1996. Upon his death, Tupac's estate was left to his mother, Afeni Shakur, as the sole beneficiary. However, when Afeni passed away in 2016, she bequeathed all of her "tangible personal property" to her daughter, Sekyiwa, who is also Tupac's half-sister.
Recently, a lawsuit has been filed by Tupac's estate against Entertainment One, alleging that they withheld royalties and profits owed to Tupac's estate for several years. In the lawsuit, Sekyiwa argues that the items Afeni inherited from Tupac, including his music rights and unreleased recordings, should also belong to her.
Tupac's estate is estimated to be worth millions of dollars, and the battle for his inheritance has been ongoing for years. Despite his untimely death over two decades ago, Tupac's music continues to be loved and celebrated by fans all around the world.
Exploring Ownership of Tupac's Music
Amaru Entertainment is a record label founded by Afeni Shakur in 1997, after the death of her son Tupac Amaru Shakur. The label is the current owner of Tupac's music catalog, which includes some of the most influential and iconic rap songs of all time. Amaru Entertainment has been able to maintain the legacy of Tupac through an exclusive partnership with Interscope Records, a distribution deal that has made it possible for fans across the world to access and enjoy Tupac's music.
As a parent company, Universal Music Group has also played a significant role in the distribution and marketing of Tupac's music, which has helped to keep his music relevant to new generations of fans. The partnership between Amaru Entertainment and Interscope has been particularly fruitful, as it has enabled the release of posthumous albums such as "Still I Rise" and "Better Dayz," which have received critical and commercial success.
The ownership of Tupac's music catalog has been a subject of controversy over the years, with some individuals claiming that they have a right to the music. However, Amaru Entertainment remains the official owner of Tupac's music, and it has continued to release new material, such as remastered versions of classic albums like "All Eyez on Me" and "The Don Killuminati: The 7 Day Theory." Overall, the music of Tupac continues to be a source of inspiration and influence for many people, and Amaru Entertainment's ownership of his catalog ensures that his legacy will continue to live on for many years to come.
The murder of The Notorious B.I.G. Remains a mystery to this day. The weapon used in the attack and the identity of the perpetrators are still unknown. It has been speculated that Biggie carried a gun for self-defense, and someone even took a gun charge for him. Additionally, he was known to carry a cane, which may have been for medical reasons or as a disguise for a weapon. While he did face legal troubles, including a brief stint in jail, it is unclear who kept his money after his death. As for Tupac, his estate now owns his music and any associated royalties. Despite the tragic ending to their lives, both Biggie and Tupac's legacies continue to live on in the world of hip-hop.